Sacramento County Injury Attorney John O'Brien Wins the 2020 AV Preeminent Award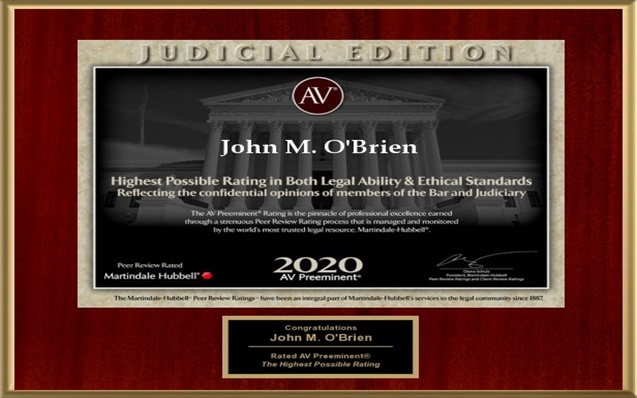 For over three decades John O'Brien has fought fiercely for accident injury victims. From auto accident injuries to product liability to construction site injuries, Mr. O'Brien has dedicated his law practice to defending and protecting the rights of the injured. Throughout his tenured career, John has helped his clients obtain over $100 million dollars in compensation. In addition, he has been recognized and awarded by authorities such as Super Lawyers, AVVO, and Martindale-Hubbell.
However, if you were to ask Mr. O'Brien what he believes is his most treasured accomplishments as an attorney, he would not mention his accolades or his record-setting trial and settlement victories. Instead, what John holds dear is the fact that he has been able to help so many deserving clients when they desperately needed it most.
Today, it is with great honor that we are able to present a well-deserved congratulations to Mr. O'Brien, who has been recognized by Martindale-Hubbell for the 20th year in a row with its 2020 AV Preeminent rating. This is the highest possible rating in both legal ability and ethical standards.
Why Turn to The O'Brien & Zehnder Law Firm After an Injury?
There are lots of Sacramento personal injury attorneys to choose from. In fact, if you simply search online, or turn on the television, you're likely to find multiple law firms throughout Elk Grove and Sacramento County that claim to be the best.
Now, before we go any further, please understand that there truly is no such thing as the best personal injury lawyer. What we believe is important, and possibly vital to the success of your injury claim, is to retain the law firm you trust the most. Being comfortable with and confident in the attorneys who handle your claim is crucial.
At our law firm, our entire legal team goes above and beyond to make each and every client feel comfortable and informed. John O'Brien and his partner Grant Zehnder take as much time as necessary to answer questions and address concerns. Our paralegals and office team members also are always available, so that when a client needs an update or an explanation, he or she can obtain one.
So, why would you turn to The O'Brien & Zehnder Law Firm after an injury? The answer is simple: because our attorneys have more than 40 years of combined experience, are ethical and responsive, and get record-breaking results for their clients. If you want to discuss your potential case with Mr. O'Brien or Mr. Zehnder please call us at (916) 714-8200.
Experience and Proven Results
As we mentioned above, no injury attorney can claim to be the best. With that said, not all lawyers are created equal when it comes to their knowledge and background. John graduated from law school at USC and was admitted to practice law in California in 1990. Mr. O'Brien has 30 plus years of experience, and he understands the difficult position injury victims are put in after an accident.
In addition, Mr. O'Brien and Mr. Zehnder have both been recognized by Super Lawyers as top-rated personal injury attorneys. Both hold perfect 10 AVVO ratings, as well as Martindale-Hubbell ratings. Stated earlier, Mr. O'Brien has had Martindale-Hubbell's highest rating of AV Preeminent for the past 20 years, which was confirmed again in 2020.
As far as results, we believe that our video testimonials speak for themselves. We've helped our clients win well over $100 million dollars, and we continue to fight for accident victims every day. Call us at (916) 714-8200 now to schedule a free consultation.
Five Star Client Reviews
Accidents seem to happen when we least expect them. Making matters worse, most people are not prepared to deal with the stresses and issues that can arise after suffering an injury. Medical expenses are not the only financial burden one can bear after a car crash, trucking accident, or any type of injury. If you cannot work, how will you pay your household bills or provide for your family?
These are concerns that our Sacramento County personal injury lawyers will address during your free consultation. Yes, we do believe one thing that truly sets us apart from other law firms is our five-star client reviews. If you would like to learn more about what John and Grant can do to help you after an injury call us at (916) 714-8200.
Award-Winning Injury Lawyers in Elk Grove and Sacramento County
Today we had the privilege of announcing Mr. John O'Brien's prestigious AV Preeminent award. Both John and Grant have been recognized as outstanding injury attorneys. If you, or a loved one, have sustained an injury due to the negligence of another person or party please call us.
Our legal team is standing by to fight for your rights after an accident. Best of all, our interactive website lets you send our law firm messages 24 hours a day, 7 days a week. Click here to fill out an after-hours contact form and we will get back to you during our normal business hours the following business day.