Accidents Involving Large Trucks in California
Posted on 20th October, 2023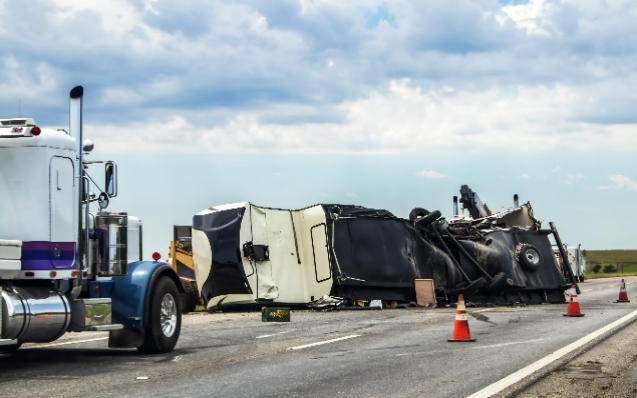 Sharing the road with large trucks traveling up and down California roads and highways is commonplace. Some speculate that online shopping is to blame but no one can say for certain. However, it makes sense to reason that if more semis are on the road, the number of accidents involving them is also up.
If you have suffered injuries in a truck accident in Sacramento County and someone else was at fault, O'Brien & Zehnder Law Firm can help you pursue compensation for your injuries.
We will help you through your recovery process, both mentally and legally. Once we know your case details, we will advise you on how to protect your rights.
Common Truck Accident Causes
Many factors that cause regular car accidents, such as speeding, distracted driving, and not following traffic rules, also cause truck accidents. These situations are also much more dangerous, as these large vehicles are much harder to maneuver and stop to avoid unforeseen dangers. Other truck-specific crash causes include:
Lack of training: Operating a large truck is different than your regular, small car, as such, extensive training is required. This is especially important in the case of a rental truck accident.
Tight schedule: Drivers often find themselves having to operate in a dangerous manner, which includes speeding and not getting enough rest because of the need to fit an impossible schedule.
Malfunction: Things like brake defects, worn tires, non-functional headlights, and taillights. Regular maintenance on trucks should be a priority.
Truck not being loaded properly: The merchandise needs to be stacked and secured in a certain way inside a truck to avoid weight unbalancing.
Types of Truck Accident Injuries
Truck accidents usually result in some form of injury; sometimes, they're mild and superficial, but often, the victims barely escape alive, and when they do, their injuries do not allow them to live a normal life. In these tragic circumstances, it is essential to receive proper compensation from the responsible party. Common injuries include:
Spine injuries: These can be minor and only result in temporary pain, or they can be more severe and require surgery and extensive treatment. Due to the nature of this injury, it can have long-term repercussions and keep the sufferer unable to work for a long time, resulting in a loss of wages.
Broken bones: Trauma can easily fracture or break a bone, which are usually serious injuries requiring surgery and a long recovery period.
Brain injuries: Brain injuries are significantly life-altering as they are challenging to treat, and they often put the victim in a permanent, life-altering condition. Suppose the sufferer manages to survive a brain injury; in such a case, they often can no longer conduct regular day-by-day activities and need a permanent caregiver to help them with these tasks.
Burns: A collision with a large truck presents a higher risk of fuel tanks exploding, which can result in excruciating, severe burn injuries.
Lacerations: Shattered glass and body collisions with different objects inside a vehicle can cause deep cuts and wounds that can put the victim's life in danger or, in the best-case scenario, cause permanent scars.
Seatbelt injuries: Even though a seatbelt's purpose is to keep the passenger restrained in the case of an accident to avoid more severe damage, it can also cause injuries in the process.
Wrongful death: A truck accident can easily result in someone's death, and the victim is often in a smaller car.
What to Do When Involved in a Truck Accident
Medical assistance should be your priority as a fast intervention reduces the risk of complications and might save your life. It would help if you kept in mind that big corporations like FedEx and U-Haul have dealt with personal injury lawsuits and are well-versed in defending against them. They are ready to take advantage of any error you may make, so it is essential to know your rights and be aware that some of your actions could jeopardize your future case:
Do not give any statements regarding the accident. You might accidentally provide information that can be used against you in a potential lawsuit, minimizing your chances of getting rightful compensation.
Do not accept money or sign any documents you might be presented with. The company might offer to pay for your hospitalization costs or monetary compensation. It is essential to wait until the aftermath of your accident is clear and you're fully aware of everything it implies. If you rush a settlement, you might receive compensation that does not reflect your injuries and losses.
Contact a skilled personal injury attorney with experience in truck accidents. Big corporations are usually experienced in these types of situations and typically have skilled attorneys handling the defense. However, this should encourage you to pursue what's rightfully yours, as they are not untouchable.
Contact an Experienced Personal Injury Law Firm
O'Brien & Zehnder Law Firm is a law firm with years of experience in all areas of personal injury law, from car accidents to product liability, and we also handle wrongful death claims. If you have been a truck accident victim and suffered injuries due to someone else's negligence, we can help you.
We don't think it's right for you to support the consequences of someone else's careless acts, and we want to make sure that the responsible party is held liable for their actions and, at the same time, that you can continue living your life as close to normal as possible after the incident.
Call one of our offices in Elk Grove or Sacramento and schedule a free consultation.