How to Prevent Boating Accidents and Casualties this Summer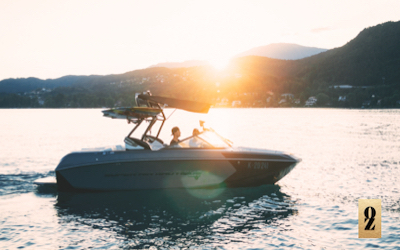 We at the Elk Grove and Sacramento County O'Brien & Zehnder Law Firm want everyone to have a fun and safe summer on California's waterways. We want to encourage boat owners to take the time to ensure their boats are mechanically sound and that they are aware of safety guidelines all boaters must follow. Here are some tips to ensure you have a safe summer:

Check The Weather- Always make sure to check your local news or weather forecast beforehand. Although California summers are usually predictable, this is a safe practice to follow and will aid you in your preparations if you notice that there is a chance the weather may take a turn. In 2015, there were a reported 4,158 boating accidents, 626 deaths, and 2,613 reported boating injuries due to weather conditions.
Pre-Departure Itemized Checklist - You may have a great memory, but with the excitement to get out on the water and the distractions of family and friends, it can be easy to forget important items, or basic necessities, for the safety of those that will be aboard your boat. A pre-departure itemized checklist should contain vital maintenance and safety items that you may need on the waterways.
Use Common Sense - Sadly, reports show that many boating accidents and casualties have occurred due to a lack of common sense or experience. For example, many of California's lakes, rivers, and marinas are marked with buoys and markers that are provided for safety; boat operators need to be mindful of these and adhere to them. In addition, when in crowded areas or near crowded beaches, it is wise to travel at a safe speed in order to carefully scan the waters for swimmers or objects.
Designate A First Mate or Skipper - Make sure you have a designated passenger aboard that knows how to drive the boat, who is familiar with boating safety practices, and is confident to get your crew safely to shore if anything happens to you.
Have A Float Plan - Searches for an overdue boat has a much greater chance of being successful if the US Coast Guard or other rescue agencies have certain facts. A Float Plan is an itinerary that can be used for your whereabouts at sea or on the waters. It would include a detailed description of your vessel and the details of your planned return.
If you're traveling by yourself, it is highly advised to make one of these and give a copy of it to a family member, friend, or trusted land-based contact. This ensures that if anything happens to you or your vessel, then help and assistance can be initiated on your behalf before it is long overdue.
Float Plans have helped saved many lives in boating accidents.
Life Jackets -Most drowning victims, due to boating accidents, could have survived if they were wearing life jackets. A boat should have enough life jackets that are the APPROPRIATE size for each person traveling onboard. The state of California requires all children under the age of 13 to wear a U.S. Coast Guard-approved life jacket while onboard a vessel that is 26 feet or less. In addition, anyone being towed behind a vessel, such as skiing, and anyone riding a personal watercraft, such as an inflatable tube, must be wearing a life jacket.

No Alcoholic Beverages - It is thought of as an American custom to enjoy an ice-cold brew by the water. However, just like it is illegal to drink and drive on the roadways of California, it is illegal to operate a boat while drinking an alcoholic beverage. In 2015 the number of boating accidents in the US due to alcohol was 306, the number of deaths 122, and the number of injuries 258.
Know-How To Swim - Everyone on board a boat has a risk of potentially falling overboard. Even with life jackets at hand, it is a good idea that everyone knows how to swim if they are going to go on a boat. The city of Sacramento has swim classes for all ages and teaches lessons on general water safety. These lessons make use of information provided by the American Red Cross and other Learn-To-Swim programs.
Take A Boating Safety Course - California provides a variety of boating safety classes. Beginning Jan. 1, 2018, California is phasing a requirement that residents who operate a motorized recreational vessel on state waterways will be required to carry a California Boater Card, which means the carrier has obtained a mandatory boating safety education. The card will be issued by the California State Parks Division of Boating and Waterways (DBW).
For over 30 plus years Elk Grove and Sacramento County personal injury attorney John O'Brien has defended and protected the rights of accident injury victims. Mr. O'Brien holds the highest honor and award of AV Preeminent recognized and bestowed upon a lawyer by Martindale-Hubbell.
Sacramento County accident injury lawyer Grant Zehnder holds a perfect 10 AVVO rating and has been awarded the recognition and level of Super Lawyer. Call our law firm now if you would like to discuss any injury case with one of our lawyers.