Selecting A Jury - What Is Involved?
Posted on 25th March, 2023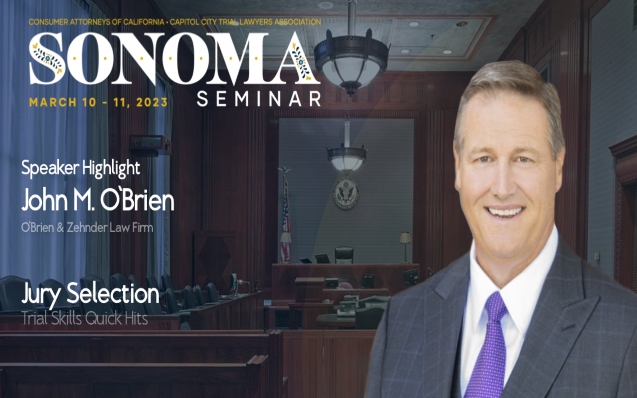 Entertainment has influenced the public's perception of being in a courtroom. Some popular series focus on a case, others on the attorneys, and others on the judge or jury. While it is true that each plays a vital role in seeking justice through the legal system, the jury is considered the ultimate decision-making body in a trial.
Our attorney, Mr. John M. O'Brien, recently gave an informative speech in Sonoma, California, for the Capitol City Trial Lawyers Association Seminar that honed in on this subject.
Here we will share a little about the jury selection process and include a vital tip Mr. O'Brien gave his listeners. This article will help our readers understand why selecting a jury is based on much more than just who received a summons in the mail.
Why Attorneys Come Prepared for Jury Selection
Jury lists are compiled of voter registrations, licenses, and ID renewals, which means that the jury pool presented in the courtroom is entirely varied. Attorneys know that picking the right jurors is as vital as presenting the proper evidence, so they should come to the jury selection with clear goals and objectives that will direct how they interview the potential jurors:
One goal would be to attempt to perceive potential jurors' biases and beliefs. During the process, attorneys ask potential jurors about their backgrounds, experiences, and ideas. Carefully planned questions help determine whether a juror will likely be sympathetic or unsympathetic to a case. For example, with a personal injury case, a plaintiff's attorney may want to avoid selecting jurors who have negative attitudes towards personal injury claims or who believe that lawsuits are frivolous.
Another objective would be for a plaintiff's attorney to identify potential jurors who may be swayed by emotional arguments. For example, if representing a client who has suffered a catastrophic injury, there is wisdom in looking for empathetic and compassionate jurors. Therefore, when the attorney carefully highlights a case's emotional aspects during trial, he will do so confidently, knowing that some of his decision-making listeners will be receptive.
These are just some items attorneys look for during the jury selection process. Clearly, much forethought is needed when selecting a jury. By carefully gathering as many fair, impartial, and receptive jurors to their arguments, attorneys can increase the chances of a favorable outcome for their client. The jury selection process can be complex and time-consuming, but it is an essential part of the trial process that wise attorneys prepare for well in advance.
Important Tip from Our Trial Attorney, Mr. John M. O'Brien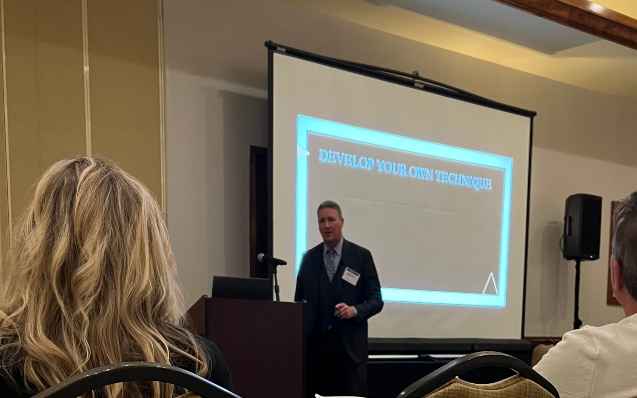 In his speech, Mr. O'Brien informed his listeners that his success in the courtroom and in selecting a jury has been influenced by, as he put it, "studying the masters." Although he pointed out that each attorney should develop their own technique, why not expedite the process by looking to well-known skilled attorneys who openly share their proven tips or methods?
Doing so can aid legal advocates in successfully defending their clients more effectively. Among the "masters" that John listed were the following: Gerry Spence, Keith Mitnik, David Ball, and Nick Rowley.
For example, Keith Mitnik is considered an attorney who lives in the courtroom, and after decades of experience, Mr. Mitnik put his proven system in print. Books by this attorney and author, such as: 'Don't Eat the Bruises' or 'Deeper Cuts,' offer Mr. Mitnik's counterparts a chance to expand their experience as they compare it to his.
John advises: "Only adopt methods and approaches that fit your style and comfort level - I love Mitnik's analogies and find they work for me, and I use them every time."
Can You Trust Your Attorney to Do His Job?
As a law firm that has successfully won settlements for those who were victims of brutal vehicle accidents, O'Brien & Zehnder are the most loyal, committed, and relentless attorneys that you will find in Elk Grove, CA. They will fight for your rights and work hard to obtain the maximum possible settlement.
With decades of experience, they know how to deal with big corporations and insurance companies in the courtroom. Their settlements total over 100 million dollars for victims. Call now for a FREE consultation.
During your free consultation, they will:
answer any questions
show you incredible compassion for your circumstances
decide the best way to conquer your case