Living With a Disability & Traveling
Posted on 26th January, 2023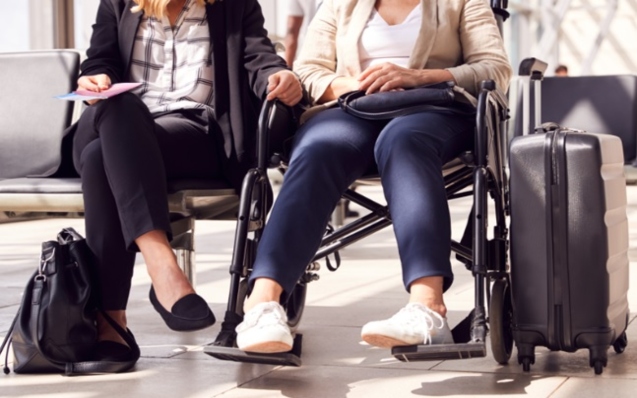 Perhaps you saw the video circling a few months ago on social media. Ms. Jennie Berry shared a candid clip on TikTok of her degrading experience as a wheelchair user needing to use the restroom on a flight.
Ms. Berry had to drag herself down the plane's aisle in front of all her fellow passengers because arrangements were not made by the airline to consider their disabled clientele. This month, Ms. Berry shared another video contrasting an airline that gave forethought to this type of scenario by making a simple adjustment on their planes: ensuring a small foldable chair is on board at all times.
Such a minor adjustment can make a world of difference for those who are disabled: preserving their dignity and permitting them to make use of the basic accommodations they should be entitled to.
We at OZLaw, have helped many who have been catastrophically injured. Such injuries change a person's life completely. Healing takes time; however, there is a sad reality, depending on their injury, they may never return to the life they had before, which is why those who are disabled ask for businesses to consider their circumstance so they can continue to have a measure of independence.
Driving Despite Disabilities
As an adult, driving is one of those items that attach to the thought of living independently. Thankfully we live in an era where new and existing adaptive technologies continue to expand the opportunities for those with different disabilities to drive both safely and in comfort. Some of these adaptations made to a vehicle are as simple as adjustable foot pedals to dashboard-mounted ignition systems.
How do you know if you or your loved one can still drive despite your disability? Begin your journey to independence by reaching out to a qualified driver rehabilitation specialist. To aid in locating a professional in this field within your state, the following are websites you can reach out to:
What Do Driver Rehabilitation Specialists Do?
Driver rehabilitation specialists will perform an in-depth evaluation to help you identify the adaptive equipment most suited to your needs. As part of this process, the specialist will pay attention to your medical condition, and the repetitive stress any adaptive aid may place on a particular muscle group of yours. A complete evaluation will include the following:
Muscle strength, range of motion, and flexibility;
Coordination and reaction measurements;
OneJudgment and decision-making timing;
Testing out adaptive equipment and more.
After the evaluation, you will receive a report containing specific driving requirements or restrictions recommendations. Most helpful is a detailed list of recommended vehicle requirements or modifications. The proposals should suggest obtaining on-the-road training to practice safe equipment operation and learn safe driving habits.
The Road to Freedom Is Obtainable
Although such a process can feel tedious or even arduous for a person who lost their physical freedom (in a sense) due to no fault of their own, it is a process that is worth the effort. Oftentimes, people have been pleasantly surprised to find out that adaptive equipment is available to support their special driving needs, and it allows them to maintain the freedom offered by the open road. We hope this is true with you or your loved one. We also hope businesses continue to ensure they are equipped to allow those with disabilities to enjoy the simplicities in life that we may take for granted, especially if it is in their power to do so.
Personal Injury Attorneys in Elk Grove That Handle Debilitating Injuries
When faced with the lasting effects of a disabling injury, receiving fair compensation is crucial. For example, consider that the estimated lifetime cost of dealing with a severe cervical spine injury suffered at the age of 25 is over $3 million for injuries at C5-C8 and an astounding $4.6 million for injuries in the C1-C4 range. The costs of a disabling injury can build up rapidly and your effort to obtain compensation should be just as rapid.
Sacramento County attorneys John M. O'Brien & Grant Zehnder are part of a highly rated personal injury law firm. We know how SCI victims and their families feel and the uphill battles they face. Call us today to start the recovery process.