John M. O'Brien Was Named a 2022 Top Lawyer by Sacramento Magazine
Posted on 15th September, 2022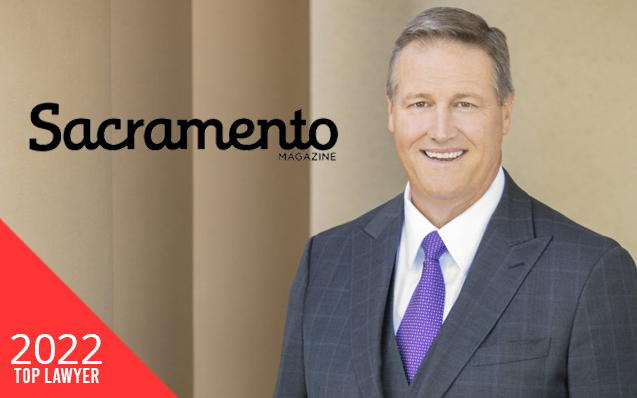 John M. O'Brien, a partner at the Elk Grove personal injury law firm, the O'Brien & Zehnder Law Firm, has been named Top Lawyer in 2022 Sacramento Magazine.
The Top Lawyer designation is given annually to distinguished attorneys in each practice area and location.
Some may say that this year's mentions or awards are especially noteworthy.
As society moves forward in these post-pandemic times, with so much work happening remotely, it's essential and helpful to highlight the progress and achievements of legal professionals who are making impactful results in and out of the courtroom.
What Makes John M. O'Brien a Top Lawyer?
With over 32 years of legal experience, Mr. O'Brien is well-known throughout the California legal community as a zealous and effective advocate for individuals who have been catastrophically injured. The O'Brien & Zehnder Law Firm has recovered over 100 million dollars in verdicts and settlements for clients in car crashes, construction accidents, and other personal injury cases.
John M. O'Brien and his partner, Grant Zehnder, a past recipient of Sacramento Magazine's Top Lawyer designation, highly value the combination of skill and collaboration in their firm, which has led to enduring success in personal injury law. Some representative matters include:
wildfire claims
product liability claims
actions against public entities
At the O'Brien and Zehnder law firm, the trial-tested attorneys give each case the time and attention it deserves.
An Exemplary Track Record with Stellar Results
When a client or their loved one reaches out to us because of being seriously injured due to someone else's negligent act, they are looking for justice, they are looking for results, and they are looking for help.
Hiring a skilled legal advocate takes a burden off the shoulders of those injured or grieving, allowing them to focus on their own healing while having the peace of mind that their rights are being protected. The confidence placed in us for such matters is humbling, and it is an honor we never take lightly. Instead, it stokes our desire to live up to our firm's mission with each case: full justice for injured victims. Recent results include:
a $17.65 million wrongful death settlement during the COVID-19 court closures
a $5.0 million recovery for a client injured in a fall on a construction site
a $1.0 million recovered for a car accident victim despite an initial offer of $37,000
Sacramento Personal Injury Attorneys - Open 24 Hours
At OZ LAW, we know that injuries can happen day or night. Our law firm is located in Elk Grove and we serve all of Sacramento County.
If you're searching for Sacramento personal injury attorneys open 24 hours, look no further than our firm. At any time, seven days a week, click here to contact our firm.
Our injury contact form allows you to send information to our attorneys 24 hours a day, 7 days a week.
Remember, when you're hurt or injured, you have legal rights. Call (916) 714-8200 to schedule a free injury consultation.