Hiring an Injury Lawyer After Being Hurt in an Accident
Posted on 12th August, 2020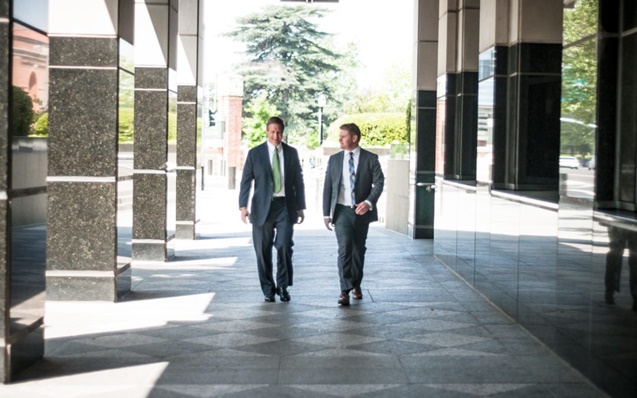 When we wake up in the morning, whether we are rushing to get the kids up for school or preparing for our workday, the last thing we tend to think about is getting hurt in an accident. Yes, most of us buckle up when we hop in our vehicles. And hopefully, none of us get behind the wheel after indulging in any type of alcoholic beverage.
However, car crashes are not the only type of accidents that can cause injuries.
In fact, according to AllLaw, a leading national injury information website, the majority of injury claims come from five other areas combined. Slip and Fall, Medical Malpractice, Libel and Slander, Dog Bites, and Assault claims, which also fall under the realm of personal injury.
Now, if and when you get injured due to the negligence of another person or party, you may need to seek financial compensation. Today, we're going to discuss the process of hiring an injury lawyer after being hurt in an accident. We're also going to touch on hiring the right personal injury attorney and reasons why you may want to perform your due diligence before you retain an injury law firm.
Retaining the Right Elk Grove and Sacramento County Personal Injury Attorney
Before we go any further, we need to take a moment to address a very common misconception amongst injury victims. For those of you searching online for the best injury lawyer in Elk Grove and Sacramento County, we urge you to stop. There is no such thing as the best attorney or law firm. Regardless of what you may read on someone's website or hear on a television commercial, the best lawyer simply doesn't exist.
Instead, we urge you to shop around, ask lots of questions, make sure you're comfortable with an attorney and that you have confidence in the law firm you elect to represent you and your injury claim. Retaining the right Sacramento County personal injury attorney is far more vital to the success of your claim than trying to find the best injury lawyer.
So, in today's world where injury victims are bombarded by online ads and highways are flooded with billboards promising the world to those who have been hurt, how does one determine which injury law firm to retain? Let's discuss this further.
Top Five Tips for Choosing a Personal Injury Law Firm
The O'Brien & Zehnder Law Firm understands the needs, concerns, and hurdles injury victims face. John O'Brien has been fighting for the rights of injury victims for over 30 years. Mr. O'Brien holds the highest rating of AV Preeminent from Martindale Hubbell and was recently awarded the Three Best Rated Award. Accident injury attorney Grant Zehnder has been recognized by AVVO, Super Lawyers, and was named a Top Lawyer by Sacramento Magazine in 2020.
Both John and Grant hold perfect 10 AVVO ratings. In addition, both attorneys are trial-tested and have won numerous court victories for injury victims. Recently, our law firm took on a complex injury case involving serious bodily injuries, permanent disabilities, and a fatality. While other injury firms may have encountered pushback from the insurance company, we successfully obtained the full policy limit for our clients.
First and foremost, our law firm extends our hearts, prayers, and deepest sympathies to our clients and their families when someone is killed by the wrongdoing of another. Nothing can ever replace the loss of their loved one, nor can any settlement amount ease the pain and suffering they have endured. However, we believe that seeking and obtaining financial justice may help with allowing the family to move forward, as best as they can.
Our clients may, or may not, have obtained the same results if they had chosen to retain a different law firm. We personally believe that our firm's good standing, reputation, and track record of success show insurance companies that we not only mean business but most of all, that we are not afraid to fight a claim all the way to court.
Here are our top five tips for choosing a personal injury law firm. Remember, at any time, if you wish to speak to one of our Elk Grove personal injury lawyers please call (916) 714-8200. We provide free consultations and our website allows for 24 hours a day contact.
Tip One - Check Out Attorney Reviews
So, you've suffered an injury and now you're ready to seek financial justice. You've made the effort to locate a few law firms in your area, but you're stuck with trying to determine which firm is the right fit for you and your case. If this sounds like you, and where you are currently stuck, try checking our online reviews.
Remember, each law firm you're looking into most likely has handled past cases. Those clients, just like you, were injured. Read reviews from past clients. Learn about their experiences with the law firm. Find out if they liked the attorneys or if they received the type of outcome they had hoped for.
Tip Two - Read Lawyer Online Profiles
If you're looking to retain an injury firm, don't you want to know a little bit about each attorney? Guess what, there is a simple and easy way to obtain this information. Online lawyer directories such as AVVO and Super Lawyers have ratings and peer reviews. This means other attorneys provide feedback about a lawyer you may be looking to hire.
Tip Three - Schedule a Free Consultation
A lot of times people shy away from calling an attorney, simply based upon monetary concerns. However, when it comes to reaching out to an injury law firm victims should feel at ease. The majority, if not all, injury law firms provide free consultations. Our Sacramento personal injury lawyers always provide free consultations.
Tip Four - Ask Lots of Questions
Ask questions. Lots of questions. Remember, the consultation is free, so utilize your time and maximize the amount of information you can get from an injury lawyer. We understand that accident victims have lots of anxieties and fears. If you ask us questions, we can help address your concerns.
Tip Five - Seek Medical Attention After an Accident
Unfortunately, if you fail to go to the doctor or hospital after an accident it may impact your ability to obtain financial compensation. For an injury attorney to fight to get you paid, they need medical documentation confirming your injuries. In addition, they need to be able to link your injuries to the accident in question. Seek medical attention after an accident, any accident, just in case you do need to take legal action.
Personal Injury Lawyers in Elk Grove and Sacramento County
Mr. O'Brien and Mr. Zehnder are both award-winning personal injury lawyers in Sacramento County. Recently, our law firm was featured on Fox News for our work in settling a major injury case. While there are lots of personal injury attorneys in Elk Grove and Sacramento County, not all law firms measure up to ours when it comes to cases won and settlement victories. We personally believe that insurance companies look at cases, the law firm they are going up against, and they weigh their opportunity cost. Hiring the RIGHT Sacramento injury law firm is far more important than wasting time trying to figure out which lawyer is better than another.
If you would like to learn more about our case victories, please click here. In addition, if you would like to hear from past clients and learn more about our law firm's values, please click here. Remember, we're here to help fight for your financial rights and to seek justice after you've suffered an injury. We cannot help you until you call us.
Call (916) 714-8200 to talk with a Sacramento County personal injury attorney open now. We're here to help you, and your family, after an injury.