Fatal Trucking Accidents and Your Legal Options
Posted on 26th August, 2019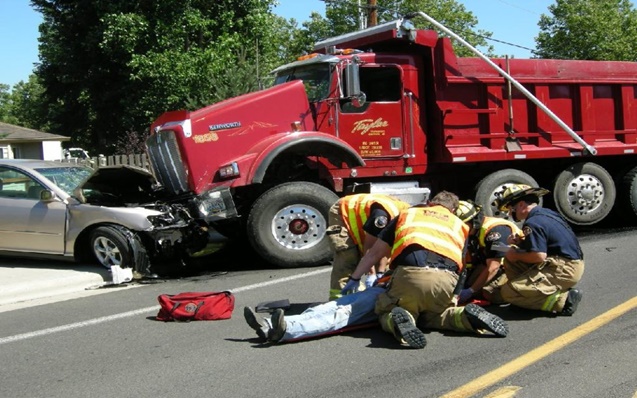 According to NBC 3 News, a fatal accident involving a flatbed truck occurred early Sunday right here in Sacramento. Over the last few days, OZ Law has published multiple stories about tragic accidents. Per NBC, the driver who lost their life collided with the flat bed-truck on Highway 160. OZ LAW can help explain the litigation involving Fatal Trucking Accidents and your legal options. if you, or a loved one, have sustained injures after an 18-wheeler or truck-related crash call our law firm now.
We have over 25 years of legal experience. John O'Brien and Grant Zehnder are award-winning Sacramento County Personal injury Attorneys. Complex injury litigation claims, like truck and 18-wheeler crashes, can take a long time to settle. Hiring the right injury attorney may help speed up this process. We've won well over One Hundred Million Dollars for our clients. Call us today to find out why injury clients in Elk Grove and Sacramento County trust us to handle their cases.
Sacramento County Truck Accident Attorneys
Truck Accident Attorneys John O'Brien and Grant Zehnder know how to fight for our client's rights. Standard auto accident cases can be difficult to settle. Navigating the legal waters surrounding truck accident claims is even tougher. See, when two normal size vehicles are involved in a crash the party at fault is usually easy to identify. However, with trucking and 18-wheeler crashes this is not always the case. These types of accidents can be complex and can drag out for years. So, what do you do?
For starters, you can hire an Elk Grove and Sacramento County Personal Injury Attorney. Our law firm has over two decades of success handling complex and large injury cases. During your consultation with John and Grant, they will ask you a series of questions. In turn, you will get a chance to ask us questions as well. We need to gather information from you about the crash. You will want to get to know us to make sure we're the right law firm for you. To schedule a consultation to discuss fatal trucking accidents and your legal options click here.
Catastrophic Injuries and Filing a Wrongful Death Lawsuit After a Trucking Accident
Sadly, too many trucking accidents end in fatalities. Trucks.com, a leading national trucking info agency, reported that 2018 had more fatalities than the last 29 years. If you would like legal information about catastrophic injuries and filing a wrongful death lawsuit after a tucking accident click here.
How Long Does it Take to Win a Trucking Accident Injury Lawsuit?
Truck accidents and 18-Wheeler crashes tend to fall into the complex injury litigation category. There are a plethora of reasons why these types of accidents take longer to settle. However, to keep it simple we identify two areas that cause complexities when filing these types of claims. Number one, we're usually suing a large corporation. Big rigs and 18-wheelers are typically owned by national companies who have deep pockets to put up a legal right. Number two is similar, as we're suing for a lot of money. Insurance companies tend to freak out when this happens.
This is why a lot of people look for large injury settlement attorneys after a truck accident. Thankfully for you, you've come to the right website. Our law firm has won over $100,000,000.00 and counting for injury victims. We've taken on major insurance firms, large construction firms, and national trucking companies. John O'Brien and Grant Zehnder aren't afraid to take a case to trial. While we do try to settle a claim quickly, we also won't let our clients settle for less than they deserve. We fight to get you paid.
Call a Sacramento County Trucking Accident Attorney
If you, or a loved one, have been hit by a FedEx, UPS, or large truck call us now. Medical expenses can create all sorts of financial stress. Most truck crashes cause major injuries. If you're too hurt to work how will you pay for food or rent? These are some of the concerns that we will address when we meet. However, in order to schedule a consultation, you need to call a Sacramento County Trucking Accident Attorney. Dial (916) 714-8200 to talk to an attorney. For after-hours matters please use our in depth 24-hour contact form by clicking here.