Fatal Big Rig Accident in Sacramento
Posted on 2nd November, 2020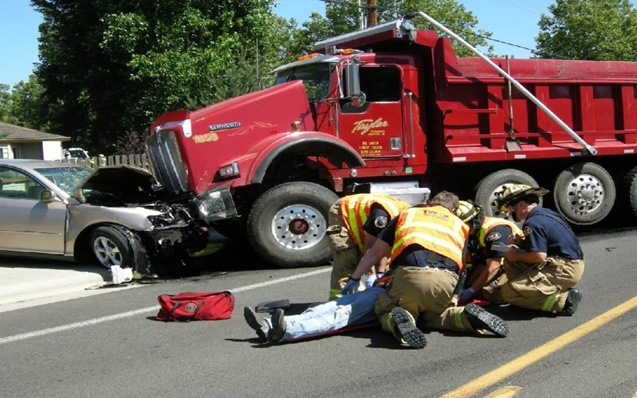 The Sacramento Bee, as well as other national news agencies, published a story about a fatal big rig accident in Sacramento County. The news report states that the driver of a large commercial big rig drove into three vehicles that were stopped. One man died and multiple others suffered severe injuries.
The accident took place on Interstate 5, very close to the Sacramento Airport. Fire, emergency services, and the CHP arrived on the scene around 4:30 pm. Unfortnelty, they were unable to save the life of one of the victims.
Authorities claim that the truck driver was traveling in the fast lane, failed to slow down and stop, and collided in heavy traffic. The drive smashed into a Chevy van, Ram pickup truck, and a Kia sedan.
At this time, law enforcement authorities do not suspect that the driver at fault was intoxicated. The accident is under investigation. Our law firm extends our hearts and prayers to the victims and their families. Tragedies like this do not need to occur. Sadly, they seem to happen too often. Especially trucking accidents. If you, or a loved one, have been injured in a truck-related crash, call one of our Elk Grove and Sacramento County truck accident attorneys now.
Today's article is going to touch on some of the potential complications that can arise after suffering a truck accident injury. We're also going to discuss reasons why you may want to retain an injury lawyer. Now, please remember, our website does not provide legal advice. If you wish to speak with a personal injury lawyer in Elk Grove please call (916) 714-8200. We provide free consultations.
Elk Grove and Sacramento County Truck Accident Injury Lawyers
California, like most states, has specific laws pertaining to different types of accident injuries. Part of obtaining a favorable outcome in a legal matter is understanding the laws, and most of all, how those laws relate to and affect your case. The Elk Grove truck accident injury lawyers at our law firm have decades of experience. In fact, we've helped our clients obtain well over $100,000,00.00 in settlements and court victories. If you, or a loved one, have sustained injuries after an accident we can help.
Yes, we provide free consultations. That's correct, we do not charge ANY money upfront, and best of all, we only get paid if and when we win money for you. However, we cannot help you unless you contact us. Today, we're going to look at some of the things that can come up during a truck accident injury claim case. Read today's article or click here to contact us now. Our website allows accident injury victims to send us requests 24 hours a day, 7 days a week.
Top Three Reasons to Hire a Truck Accident Injury Attorney
Our law firm knows that accident victims have lots of questions. That's why we make ourselves available to clients. We want you to have the opportunity to address your concerns, and we take the time to walk you through the legal process. Today, we're going to identify our top three reasons to hire a truck accident injury attorneys. No one wakes up, hops in their vehicle, and hopes to get into a wreck. Unfortunately, accidents can and will happen. Having an experienced and trusted attorney by your side may make a big difference in the outcome of your claim.
Here are our top three reasons why you may want to call a truck accident injury lawyer in Sacramento County. If you're ready to talk to an attorney now, call (916) 714-8200. We're ready to FIGHT to protect your financial rights after an injury.
Suing an Insurance Company and a Trucking Company
When two standard cars driven by two non-commercial drivers get into a crash, it's usually pretty clear who's at fault. Whoever causes the crash typically has insurance, they provide said insurance to the victim, and the recovery process begins. Sounds normal right? Well, when you're dealing with a commercial trucking accident, things may not go so smoothly. First, the driver is a licensed professional. They have to meet a stricter set of safety guidelines personally, and so does their vehicle and load. Second, you may need to file a claim against the trucking company, insurance company, and driver. Allowing an experienced Elk Grove and Sacramento County truck accident attorney to represent your injury claim may be a good idea.
Large Money Claims Can Cause Delays in Settlements
Insurance companies like to paint pretty pictures for us. They tell us in television commercials that they will be there when we need them. Some claim to be "like a good neighbor" while others tell us they will pay us the extra money we cannot work (think of a famous insurance duck). Sadly, this isn't the case most of the time. Insurance companies make billions of dollars a year and they are publicly traded companies. This means they kind of operate like an investment firm, and they DON?T like to lose money.
If you've been seriously injured, you may need to request hundreds of thousands, even millions of dollars from the insurance firm. Even worse, sometimes accidents cause permanent disability, and you may need long-term care and financial assistance for the rest of your life. In extreme cases, truck accidents can be fatal, like the one that took place a few days ago. In these situations, surviving loved ones may need to file a wrongful death claim. We know how to handle complex injury claims. The more money you need, the more the insurance company may fight. Let our Sacramento County truck accident attorneys fight for you.
Peace of Mind and Time to Recover
Most of all, we believe that accident victims need peace of mind and time to recover. John O'Brien and Grant Zehnder are decorated award-winning Elk Grove injury lawyers. Both hold perfect 10?AVVO ratings, and both attorneys provide free consultations. Our law firm cares about our clients, we care about injury victims and their right to seek financial justice. For over 25 years Mr. O'Brien and his legal team have put the needs of accident victims first. It's no wonder why John was awarded the highest honor by Martindale-Hubbell, the AV Preeminent ranking.
Let one of our Sacramento County injury attorneys help you and your family today. Call us now at (916) 714-8200 to learn more about your rights after an injury. The call is free, the consultation is free, and we charge no money upfront.
Best Elk Grove and Sacramento County Truck Accident Lawyers
If you've found our law firm's website because you're searching for the best Elk Grove truck accident lawyers, we urge you to stop. There is no such thing as the best personal injury attorney in Sacramento County. No one lawyer can claim to be the best. Instead, we believe that an accident victim should retain an attorney that they trust. You need to feel comfortable with a lawyer, and you must have confidence that they can represent your best interests.
So, how can you find out which law firm is right for you? Simple, ask the attorneys lots of questions. We provide free consultations. Whether you want to meet in our office, have us come to you, or if you prefer to meet over ZOOM, we can accommodate your requests. Our law firm has made strides to allow for consultations during the COVID-19 crisis. We sanitize our office, wear masks, and for those who wish to select a digital consultation, our conference room allows for video face-to-face chats.
Call our Elk Grove personal injury lawyers now to learn more about your rights. We know how to fight for your financial well-being after an accident injury. Call (916) 714-8200 now to talk to a truck accident injury attorney. We service all of Sacramento County.