Deadly Highway 99 Crash
Posted on 18th February, 2020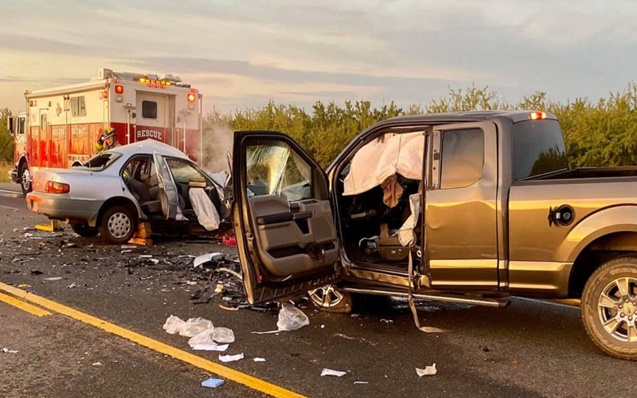 According to FOX40 Web Desk, a horrific, fatal crash occurred in Stockton, CA. It was the unfortunate case of a pedestrian being hit by a motor vehicle on Highway 99. According to reports, it took place on the Southbound side of the Highway near Lathrop Road. As you can imagine, the devastation to the pedestrian's family and friends will be immeasurable. While struggling to cope with their loss, it will be imperative to seek some sort of justice for their loved one. Hiring the right attorney to head that charge will be key to achieving the result you want and need to somehow move forward.
If you're in need of an attorney due to a life-changing death related to an accident in Sacramento County, the Elk Grove-based O'Brien & Zehnder Law Firm will take on the stress and mammoth task of acquiring justice for you and your loved one. There is never any perfect way to deal with the traumatic pain and loss of a loved one due to an unforeseen, tragic and fatal accident caused by another, so seeking expert, experienced and competent representation is integral to the fight ahead.
Filing a Wrongful Death Claim After an Accident
Filing a wrongful death claim can be tricky and is understandably stressful. How it works is something that you certainly would want to rely on an experienced wrongful death attorney to guide you through. A wrongful death claim is in play when someone dies as a result of someone else's negligent or intentional behavior or act. Basically, a wrongful death claim arises when a person who would have a legitimate personal injury claim dies due to the defendant's legally wrongful actions. This can include such cases as an intentional killing, a patient dying as a result of medical malpractice, or even a fatal car accident, plus other scenarios, as well. Therefore, it is essential to hire an attorney who has the experience and can navigate the complexities of a wrongful death claim.
Benefits of Retaining a Sacramento County Personal Injury Attorney When Dealing with a Complex Injury Claim
Of course, being in the position to have to make legal representation decisions to get financial justice for a loved one in the case of an awful loss is as heartbreaking as it gets. Nevertheless, it must be done, because the complexity of the major personal injury and wrongful death cases is simply too daunting for you to take on alone. The presence of a personal injury attorney with the know-how and commitment to power through the legal process, or even the threat of one, can be the difference between a proper settlement and no legitimate closure at all. The bottom line is that your lawyer's expertise with understanding the law, negotiating with insurance companies, settling a claim quickly, and getting the maximum amount of compensation will be the difference maker with your particular case.
Understanding the Law
I know what you're thinking... why should "understanding the law" be a major factor in choosing a personal injury or wrongful death attorney? Shouldn't all attorneys perfectly understand the darn law? Of course, they should, but just like any profession, not all attorneys are educated and aware of all the in-depth, complex legalities, especially when it comes to tragic, fatal death cases and law. Hiring an attorney in Sacramento County who truly understands wrongful death law will be key to the success of your claim.
Negotiation with Insurance Companies
Again, you're 100% correct, all attorneys should be well equipped to negotiate with insurance companies. Here's the kicker; not all are, especially when super high dollars are required to settle a case like the wrongful death or catastrophic injury of your loved one. If you think you can do it yourself, think again. You're already immersed in the stress and unimaginable melancholy of losing your loved one to a horrible accident or negligence of another person. The last thing you need is the immense pressure and stress of taking on a totally insensitive insurance company that will do anything to pay out as little as it can get away with. O'Brien & Zehnder Law Firm in Sacramento County is exactly the experienced, diligent, and powerhouse representation you're looking for and will need to take down the big bad wolf that is the insurance company fighting your wrongful death claim at every step.
Settling a Claim Quickly
Although you want the absolute maximum level of compensation, there are benefits to settling a claim quickly and out of court. There are many potential issues to consider when deciding whether or not to settle your claim quickly. If your case goes to trial, you will be reliving the unbearably painful details surrounding the loss of your loved one. In addition, when a case goes to trial, juries can be unpredictable, so you may find yourself at the mercy of what they deem important factors versus what your attorney presents as the most crucial factors. Additional factors may include the potential amount your lawsuit is worth, the possible length of the trial, how long it may take to get to trial, considering the insurance companies delays, the honest assessment of winning at trial, whether or not similar cases are netting the type of positive result you're seeking, etc. Hiring an attorney who knows how to quantify these factors and make the best decision for you and your family could be the difference between a positive outcome and a devastating one.
Getting the Maximum Amount of Compensation
Even though it's difficult to acknowledge under the brutal circumstances of dealing with the aftermath of your loved one's death due to the negligence or intentional act of someone else, it becomes about the money when trying to receive some form of justice. It's tough to focus on both your loss and the incredible desire to make someone pay in the form of money, but it is a necessary reality when dealing with wrongful death cases. Choosing an attorney who understands wrongful death lawsuits is essential to getting the maximum amount of compensation. The California state laws regarding wrongful death settlement distribution, as well as who can file a wrongful death claim, when it can be filed, the statute of limitations, etc, are all decisions that your attorney will help you navigate, all for the ultimate purpose of getting you the maximum payout possible for you and your family during this difficult time.
Peace of Mind
When you find yourself in the middle of what may be the worst, most tragic experience of your life, and you're desperately trying to get justice in the form of the highest financial number possible, it's easy to lose sight of the value of achieving some level of mental peace of mind. The benefit of hiring an attorney with the experience to manage your legal pursuit with the courts or the insurance company, as well as one with sincere compassion for your loss, can go a long way in helping you reach some freeing peace of mind. Don't forget that when choosing the right wrongful death attorney for your claim. It's not just about the money and the justice, but it's also about taking the pressure off of you, so you can focus on somehow being able to move forward in light of the horrible circumstances.
Schedule a Free Consultation with a Wrongful Death Attorney in Sacramento County
As a law firm that handles wrongful death and catastrophic injury cases, O'Brien & Zehnder are the most compassionate and tenacious attorneys you will find in Elk Grove and Sacramento County. They will fight to the end for your financial rights, and they know how to take on big corporations and insurance companies. Their settlements total over 100 million dollars for victims they've represented. During your free consultation, they will answer any questions you have, show you that you have a true ally, and determine the winning path for your particular claim. Call now for a free consultation.