Car Crash Injury Attorneys in Elk Grove and Sacramento County
Posted on 23rd September, 2019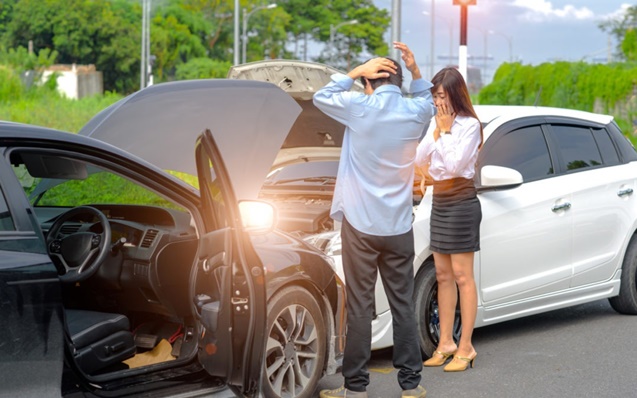 According to FOX 40 News, 8 people have sustained injuries after a multi vehicle accident. One of the cars ended up inside Sacramento restaurant Bangkok@12 Thai. Downtown Sacramento is home to hundreds of amazing restaurants and nightlife options. Unfortunately, our streets get packed with traffic. Lots of cars and people with places to go don't always mix well. In fact, there are more vehicle-related injury accident claims in Sacramento County than any other type of injury claim. John O'Brien and Grant Zehnder are award-winning Car Crash Injury Attorneys in Sacramento. If you, or a loved one, have been hurt in an auto accident please call us right away at (916) 714-8200.
Our Sacramento Personal Injury Attorneys offer a free consultation. During your meeting with Mr. O'Brien and Mr. Zehnder, you can ask all the questions you like. In addition, our law firm can analyze your case. While no attorney can guarantee a result we may be able to provide a theoretical estimate of a potential settlement value. Car accidents can and will happen, and when they do, you have legal rights. We know how to fight for those rights and we've done so for over 25 years. To learn more about the steps you can take after a car crash keep reading. Or, for fast service, click here to fill out our 24 Hour injury contact form.
5 Things to do After a Car Crash Injury in Sacramento County
Car accidents happen every day here in Sacramento and Elk Grove. Most people chalk up auto accidents to fault drivers. From texting while driving to speeding the majority of accidents happen from human error. However, that's not the only cause of car crashes. FOX News published a story about a local police chase that caused an accident just a few weeks ago. The point is this, vehicle-related injuries are the most common type of personal injury lawsuit filed. From medical and hospital expenses to lost wages and auto repair bills car accidents cost us billions of dollars a year. Hiring an injury attorney might be a top priority for you after an accident, but it's not the only thing you may need to do. Here are our top 5 things to do after a car crash injury in Sacramento County.
Seek medical attention and go to the hospital
We firmly believe that the first thing anyone should do is to seek medical attention and go to the hospital. Look, after an auto accident you may have severe injuries. Unfortunately, injury symptoms don't always show up right away. Why is that? Well, we went looking for medical answers. According to PubMed.gov, there is an adrenal response to trauma. Essentially, our bodies release stress hormones to help us cope with injuries. This means that your injury symptoms might not show up for a few days or weeks after a car crash. Going to the doctor right after an accident is vital. First and foremost, you need to get checked out by a doctor. Second, it documents the injuries and ties them to the accident. We will explain why this is also very important later in this article.
Let your doctor or hospital know about any prior injuries or conditions
Most people have been involved in some type of injury in their life. Whether you were an athlete in your youth or if you perform labor for a living, most of us have some type of ache or pain every now and then. However, sometimes people have actual injures such as blow discs in their back or spinal cord damage. These are known as pre-existing injuries and they can cause some potential issues when filing an auto accident injury claim. Let your doctor or hospital know about any prior injuries or conditions after a car crash.
Get copies of x-rays and medical records from the hospital or doctor
When you get out of the hospital ask for your medical records. Get copies of x-rays and medical records from the hospital or doctor because an injury attorney may need these. There are lots of hospitals in Sacramento County. In fact. U.S. News published an article where they identified the best hospital in Sacramento. While doctors usually go above and beyond to care for their patients they can only help you if you go and see them. Again, after a crash, we urge you to seek medical attention. Get your medical records and then call us at (916) 714-8200 to schedule a free consultation.
Call a Personal Injury Attorney in Sacramento
Once you've been checked out by a medical professional call a Personal Injury Attorney in Sacramento. Look, everyone who gets hurt would love for an insurance company to step up and help out. Most people pay for insurance, and we do this so that when something crazy or unexpected happens we have support. Sadly, when we need our insurance companies' help the most they tend to run away. There are a plethora of reasons why insurance companies deny claims but there's only one you care about. The reason they denied your claim. Don't let that happen, call an injury attorney and let them fight to get you paid.
If you want to hire an injury attorney you can check out online reviews. Do your homework, there are lots of injury attorneys in Sacramento County. John O'Brien and Grant Zehnder are car crash injury attorneys in Sacramento with proven track records. If you would like to schedule a free consultation please click here and fill out our injury contact form.
Be patient and trust your attorney to protect your financial interests after a crash
The last thing we urge you to do is to be patient and trust your attorney to protect your financial interests after a crash. Insurance companies are notorious for doing two things after an auto accident. One, they flat-out deny your claim. Two, they offer a low dollar amount offer just to force you to settle. We know the games big insurance companies try to play. Guess what, we've been winning large injury settlement cases for over 25 years. More importantly, we've won over $100,000,000.00 for accident victims. Let us FIGHT to get you paid the maximum amount of money possible after a car crash.
Denied Car Accident Injury Claims and Your Legal Options
Earlier in this article, we talked about the importance of seeking medical attention after an injury. We briefly touched on pre-existing conditions and the complications they could cause with an injury claim. In addition, we also mentioned that it's vital to link your injuries to the accident. However, we would like to take a minute and dive deeper into this because it's very vital to an injury claim's success. After a crash, you may suffer serve injuries. Head trauma, neck and back injuries, and spinal cord damage often occur from auto accidents. Unfortunately, symptoms may not appear right away. If you don't go to the doctor after a car crash an insurance company may use this against you.
Look, we're not here to try and convince you that insurance companies are evil. Insurance has a purpose and we all need it. However, we are urging you to protect yourself. Insurance companies do hire insurance adjusters and underwriters. Their job is to review and analyze an insurance claim to make sure it's legitimate. You need to remember that insurance companies receive billions of dollars in fraudulent claims per year. They don't know the difference between your legitimate injury claim and one submitted by a scam artist. If you don't document your injuries after the car crash, and they are not confirmed by a third-party medical professional, we may have an uphill battle in court.
If your car accident injury was denied, or if you're facing a complex car accident injury claim, we can help. For over 25 years our law firm has fought for the financial rights of accident victims throughout Sacramento County. Call us at (916) 714-8200 now to schedule a free injury consultation.